About The foundation of Bohuslän rock carvings

AKTUELLT

Vecka 15 år 2013.
Vår nya rapport, textdelen, finns nu som pdf.
Läs mer här.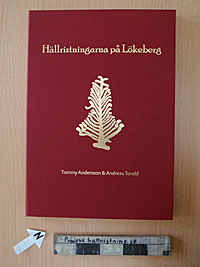 Ny artikel av arkeolog Andreas Toreld: Svärd och mord - nyupptäckta hällristningsmotiv vid Medbo i Brastad socken, Bohuslän.
Läs här.

Facebook
Stiftelsen för dokumentation av Bohusläns hällristningar finns även på Facebook.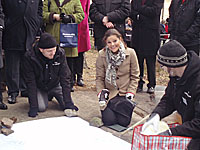 Kronprinsessan Victoria på besök hos stiftelsen. Bilder.

Video dokumentation
Se hur vi dokumenterar
hällristningar.
Dokumentär gjord av Linnea Ulfsdotter. Se här.
A Foundation to promote the coordination of rock image documentation in Bohuslän in close cooperation with the responsible authorities and institutions, which lack their own economic opportunities for this great work. The Foundation sees its main task is to collect and coordinate financial resources, so that documentation can be ongoing and broad-based.

West Coast and foremost Bohusläns petroglyphs are one of the world's most remarkable imagery preserved to our time. It is therefore a special responsibility in these images are made available for national and international research and to the documentation material and research results are widely available and useful done.
A very rough calculation to perform this documentation work only in Bohuslän suggest that a working group of about four people would have to work 100 days a year for 50 years, with only the material that is already known. The total cost is breathtaking, about 20 million SEK. Therefore, it is also set position to eventually train more and new documentation groups.

The Foundation is constantly seeking funds for their operations. Because this is a specialized and continuous, have funds for care received, which are also almost immediately consumed. The work is sockenvis, a common practice in archeology. Several volumes have already been published, reporting of character, very useful for further research and for the enjoyment of the public image of interest. Foundation with his serious approach and its results-oriented business deserves to be supported, not least because it offers a possible course of action, then petroglyphs itself is a far too extensive materials to adequately be handled by the antiquarian authorities and museum institutions.


Professor Jarl Nordbladh